Early Inns and Taverns through tradesmens tokens - Kent street to Knightrider street
This is a historical site about early London coffee Houses and Taverns and will also link to my current pub history site and also The London street directory
LONDON TRADERS, TAVERN, AND COFFEE-HOUSE TOKENS, CURRENT 1649-1672. :
Index of Tradesmens tokens.
St. Katharine's, see CATHARINE'S.
KENT STREET.
#688 THOM : STIVER AT THE Tallow-chandlers' arms, in field.
Rev. END OF KENT STREETS In the field, T. s. 1652.

#689 BENETT MARINOR IN In field, B. E. M.
Rev. KENT STREETS . 1656 A bear and ragged staff.

In Shakespeare's historical play of King Henry the Sixth, Clifford, in his vaunt of defiance to Warwick, threatens personal vengeance in the coming conflict :

" Might I but know thee by thy household badge."

Warwick replies

" Now by my father's badge, old Nevil's crest,
The rampant bear chain'd to the ragged staff,
This day I'll wear aloft my burgonet." Second Part, act v. sc. 1.

Shakespeare here confounds the crest with the cognizance; nor was the latter
the badge of Neville, but of the Beauchamps, who preceded him in the earldom.

#690 AT THE WHITE BEARE Bear with collar, and H. E. M.
Rev. IN KENT STREETE A FARTHING CHANGER.

H. M. appears to have officiated as an agent in the collecting and interchanging with the issuers of farthing tokens. One other instance occurs ; RICHARD RICH, in Little Drury lane, Mealman, has on his token, " CHANGER OF FARTHINGS." See No. 414. How this agency was effected does not appear.

The household furniture and fixtures of the White Bear public -house in Kent street, in the parish of St. George, South wark, were announced for sale by auction by Thomas Fish, June 14th, 1781. The White Bear is yet a sign in Kent street.

#691 WILLIAM CHRISTOPHER AT Y E Anchor, in the field.
Rev. IN KENT STREET HIS HALF PENNY. W. C. Square in form.

#692 MICKELL RIDLEY Mercers Company arms, in the field.
Rev. IN KENT STREET In the field, M. I. R.

Evelyn mentions in bis Diary, December 5th, 1683, " I was this day invited to a wedding of one Mrs. Castle, the daughter of one [James] Burton, a broom -man, by his wife, who sold kitchen-stuff in Kent street, whom God so blessed that the father became a very rich and was a very honest man ; he was sheriff of Surrey [in 1673], where I have sat on the bench with him."

Kent street, after the lapse of two centuries, presents but little improvement.

KING'S-BENCH PRISON, Southwark, see No. 211.
KING STREET, Covent Garden.
#693 THE WHITE BEARE . IN KING STREET A bear passant, chained.
Rev. IN COVENT GARDEN . HIS HALF PENY In the field, N. S. N. 1/4

The name of NATHANIEL NOERINGTON appears in the poor-rate assessment book, 1663 ; but the burial register notices on August 10th, 1660, the interment of " a child of Mr. Norrington." The same chronicle of death records his burial, " of the plague," on October 27th, 1665, as also of several of his children. The plague this year caused so great a depopulation in the neighbourhood that would now be scarcely credited. Pepys, in his Diary, January 19th, 1666, in reference to the ravages of the pestilence in the metropolis, notices as " a remarkable thing, how infinitely naked all that end of the town, Covent Garden, is at this day of people ; while the city is almost as full again as ever it was."

KING STREET, St. Giles's in the Fields.
#694 THO : WOOLLAMS IN NEW KING In field, three brushes.
Rev. STREET. IN ST. GILES Y E FEILDS HIS HALFE PENNY. T. I. W.
B1579. Obverse. John . Masson . in = A helmet.
R. KINGS . STRET . COVEN . GAR = I . E . M. 1/4

B1580. Obverse. THE . WHITE . BEARE . IN . KING . STREET = A bear and chain.
R. IN . COVENT . GARDEN . HIS . HALF . PENY = N . S . N. 1/2

B1582. Obverse. in . kings . streete= A bear and chain.
R. IN . COVENT . GARDEN = N . S . N. 1/4

B1583. Obverse. Anthony . Smith . kings = A fox entering a gateway.
R. STREET . COVENT . GARDEN = A . E . S. 1/4
KING STREET, WAPPING.
B1584. Obverse. AT . THE . DOLPHIN . IN = A dolphin.
R. KINGS . STREETE . WAPIN = G . M . B. 1/4

B1585. Obverse. John . Goddin . in . kings = A bunch of grapes.
R. STREETE . AT . WAPING = I . K . G. 1/4

B1586. Obverse. Isbell . Izard . in = Three arrows.
R. KING . STREET . WAPPIN = I . I . 1/4

B1587. Obverse. AT . THE . TRVMPET . IN = A trumpet.
R. KINGS . STREET . WAPING = R . C . L. 1/4




KING STREET, Westminster.
#695 THE BELL TAVERN IN A bell, in field.
Rev. KINGS STRET . WESTMINS. In the field, C. M. D.

The Bell tavern was one of very early date. Among the expenses of Sir John Howard, under November 15th, 1466, are noticed, " Item, my mastyr spent for his costes at the Belle at Westemenstre, iijs. viijc?."

" November 27th. Item, my mastyr spent at the Belle at Westemenstre, ija."
" December 1st. Item, my mastyr spent at the Belle at Westemenstre, xxiij d. ob."
" February 3d, 1464-5. Item, paid mastres Ysbelles costes at the Belle at Westemenstre, xvjcZ."
" Item, the same day paid fore iiij mennes sopers that brought her to London, vjrf."

Mistress Isabel was Sir John's second daughter by his first wife, Catherine, daughter of Thomas lord Molines.

Pepys, in his Diary, mentions the Bell tavern : "July 1st, 1660, met with Purser Washington, with whom and a lady, a friend of his, I dined at the Bell tavern in King street ; but the rogue had no more manners than to invite me, and let me pay my club."

The October club met at the Bell tavern in Queen Anne's reign, when the Bell appears to have been both a coffee-house and tavern. Tickets were procurable here for the Gravesend land adventure scheme, 400Z. for 5s., announced in the Examiner, September 21st, 1710, "to be drawn in the fairest manner out of two wheels, and by two parish boys, at Plaisterers' hall, near Cheapside, on the 27th instant." On December 2d, in the same year, the curious collection of paintings by different masters, formed by Cornelius Van de Velde, were announced for sale by auction, at the Bell tavern.

#696 YE BLACK DOGG IN KING in the field, a dog.
Rev. STREET . WESTMINSTER G. H. W., in the field.

The Dog tavern, noticed in Taylor the water poet's Dogge of Warre, was another house of old resort ; but why the frequency of the sign of the Black Dog, has baffled the writer's enquiries. Ben Jonson's infirmities appear to have prevented the frequency of his visits to the Devil, about the time of old Sym's death early in 1627, and on his being stricken with palsy, in 1628, the distance was probably beyond his power. Aubrey relates that Ben, " in his later time, lived in Westminster, in the house* under which you passe, as you goe out of the churchyard into the old palace, where he dyed." This was but a short distance to the Dog tavern in King street, and it became the western rendezvous where the literati and wits, who acknowledged Ben Jonson as their chief, met to associate with the jovial spirits of the age. Herrick, on his leaving college, says he here " quaffed the mighty bowl " with Ben Jonson ; but could not, as he tells us, " thrive in frenzy like rare Ben," who seems to have exceeded all his competitors in sallies of wild wit and high imaginations. Herrick quitted London in 1629, on being presented to the vicarage of Dean Prior in Devonshire, where lie continued, till on the death of Charles the First he was ejected from his rural parish. Jonson had in the mean while died, and Herrick on coming to London, supported in the means of living by some wealthy royalists, again participated in the tavern gaieties of the metropolis. Recollections of " the brave translunary scenes" then gone by inspired his muse thus to address the shade of " glorious Ben." It commences

" Ah Ben !
Say how or when
Shall we, thy guests,
Meet at these lyric feasts
Made at the Sunf,
The Dog, the Triple Tun ;
Where we such clusters had
As made us nobly wild, not mad !
And yet such verse of thine
Outdid the meat, outdid the frolic wine."

Ben's means of subsistence were, according to entries in the Pell records, his annuity as poet laureate, one hundred marks, or 661. 13s. 4d. He appears also to have been in the receipt of a yearly pension of fifty marks from the Chamber of London, that was in the time of his greatest need withdrawn. The Harl. MS. 4955, fol. 204, contains his memorable letter to William Cavendish, then earl, but subsequently duke of Newcastle, dated Westminster, December 20th, 1631, earnestly praying for relief. His urgent need is enforced by the intimation that " Yesterday, the barbarous court of Aldermen have withdrawn their chandlerly pension, for verjuice and mustard, 33li. 6s. 8d." From this time onward, till death brought him his quietus, poor Ben's, from his infirmities and necessities, was but a sorry existence.


* The site of Ben Jonson's house is defined in Capon's plan of the Palace of Westminster.

t The Sun tavern was also in King street, Westminster. In the steward's account of the expenses of Sir John Howard, knight, under March 26th, 1464, occurs the " Item, at dynere at Westemenstyr at the taverne of the Sonne, when my mastyr dynyd wyth mastyr Stanley, ijs."

Sir John passed the evening of that day with " Syre Nycholas Latemer, at the Mermayd in Bredstret," and expended in wine, " xd. ob."

Another entry under September 3d, 1468, notices a payment "to the godewife at the Sone in the Kinges strete at Westmynster, for vj pipes, price of the pipe viijd., summa iiijs." These wine-pipes were required for Sir John's carvel then fitting for sea.
Aubrey states that Ben Jonson died August 6th, 1637, and was buried on the 9th in Westminster abbey, " in the north aisle, in the path of square stones opposite to the 'scutcheon of Robertus de Ros."

The brevity of the inscription over his grave, " o RARE BEN JOHNSON," has excited the surprise of many not aware of its origin. Sir John Young, of Great Milton, Oxfordshire, passing through the abbey, and not finding any memorial to the poet, gave one of the masons then working there eighteen pence to cut that line in the stone that covered his last deposit. The smallness of the stone occasioned the absurd tradition that has lasted to our time, that Ben Jonson's body, to save charges, was buried in an upright posture.

The original inscribed stone that marked Ben Jonson's grave was, on the recent repaving of the abbey, very laudably placed against the wall, below the monument of Brigadier-general Killegrew, in order to preserve it from injury. The new stone that now covers the site of the poet's last earthly tenement is inscribed like the former, to arrest the footsteps of those who might otherwise heedlessly pass over the spot.

Richard Smith, in his Obituary, mentions "April 17th, 1648, died Mr. Slinger, vintner, at the Dogg at Westminster." Previous to the Restoration, the Dog tavern was one of much resort by the cavaliers and dependants on the sunshine of royalty. Pepys mentions it as a house of that character. In his Diary, he records his being there on March 8th, 1660, and hearing the news of the death, on the third of the previous month, of the great Charles Gustavus, king of Sweden. Later he notices, October 10th, 1666, being the fast-day for the fire, " went with Sir W. Batten to Westminster, to the parish church, St. Margaret's, where were the parliament men, and Stillingfleet in the pulpit ; so full, no standing there, so he and I to eat herrings at the Dog tavern."


#697 THE BORS HEAD IN KINGS Boar's head, lemon in mouth.
Rev. STREETE .WESTMINSTER In the field, I. D. w.

The Blue Boar's Head tavern was on the park side of King street, between Gardener's lane and George yard. The original site, and its communication from King street to De la Haye street, are defined in Blome's Map of St. Margaret's parish, retained in the booksellers' edition of Strype's Stow, 1754. The Boar's Head tavern was rebuilt about the middle of the last century.

The following advertisement appeared in the Mercurins Publicus, 1660, p. 460 :
"Lost on Thursday the 28 of June 1660, between 7. and 8. a clock in the morning, between the Blew Bores head in King Street Westminster , and the Bowling Alley. A waved Rapier with a black threded Hilt."— Vide Appendix.
The Protector Oliver is traditionally said to have resided in King street, Westminster, and in the rate-books of St. Margaret's he is described as " Lieutenant-generall Oliver Cromwell." His house is said to have been contiguous to the Boar's Head ; but all identity seems lost. The Old Swan tavern, demolished in 1795, was engraved under the belief that was the house ; but for the assertion there has not transpired the slightest authority.
The Blue Boar, an ancient house, was rebuilt in 1750, and was still standing 100 years later.— Vide Cunningham's Hand-Book of London, p. 273.


#698 WILLIAM WATTS. 1650 In three lines, across the field.
Rev. KING STREET. WESTMINSTER Cordwainers' arms.

#699 IN KINGS STREETE A mortar, with two pestles.
Rev. WESTMINSTER .1651 In the field, E. A. M.
" June 20, 1661. There were two fine Flanders Laces stolen, each about a yard and a half in length, and a little above half a quarter deep, to the value of 36 l)
If any shall come ta hand to be pawn'd or sold ; or notice be given where such laces are conveighed to any other person, let them bring word to the sign of the Pestle and Morter in Kingstreet Westminster, and they shall be well satisfied for their pains."

This advertisement appeared in the Kingdom's Intelligencer, June 24—July 1, 1661, p. 412, and in the Mercurius Publicus, No. 26, June 27—July 4, 1661, p. 408.

#700 IN KING STREETE In the field, three gloves.
Rev. IN WESTMINSTER A fleur-de-lis, and S. B., in the field. 1/4

#701 WILL. CLARKE IN KING The Queen's head, in the field.
Rev. STRET WESTMINSTER In the field, W. E. C.

#702 WILL. HAWKINS KING ST. A bull's head, in the field.
Rev. IN WESTMINSTER In the field, W. H. H.

The Bull's Head, probably in compliment to Queen Anna Boleyn, whose family arms were argent, a chevron gules, between three bull's heads sable. They are thus emblazoned in the windows of the mansion, Wickham court, in Kent.

#703 THOMAS SHERWOOD A stag passant regardant, in field.
Rev. IN KING STREETE In the field, T. P. S.

#704 EDWARD BARNARD AT YE DOLPHIN IN KING STREET IN WESTMINSTER.
Rev. A dolphin : below, a hand pouring coffee ; HIS HALF PENY.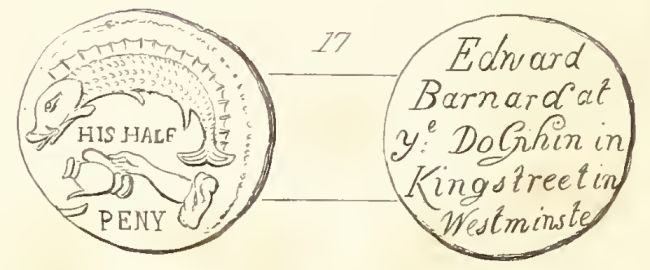 Edward Barnard at ye Dolphin, King street in Westminster. His Half Penny And a Dolphin .
The dolphin, one of the earliest devices in heraldry, was borne on a banner by Andrew the Dauphin, count of Viennois, contemporary with King Henry the Third of England, and patriarch of the dauphins descended from the houses of Burgundy and La Tour. The form adopted was of course symbolical of the name of the province ; azure, a dolphin or, was readily descried by the vassals of Dauphine, and one that was generally understood.
Shakespeare, in his play of King John, in using the word dolphin, as indicative of the dauphin
" Lewis the Dolphin and the heire of France,"
has inadvertently committed a gross anachronism. King John died more than a century before the title was created, or borne by the heirs-apparent of the throne of France.
On tradesmen's tokens the dolphin is represented as embowed ; it is so also on ancient coins and sculpture, as if sporting on the surface of the water, when it deceives the eye, and appears curved ; and from those acknowledged faulty representations, the heralds have notwithstanding adopted the curved form on shields of arms. The dolphin, like all the cetacea, is destitute of scales, but scales are marked in armorial emblazonments, to give a more gorgeous effect to its naturally beautiful colours :
" And as he darts, the waters blue
Are streaked with gleams of many a hue,
Green, orange, purple, gold." Lewis.
#705 WIDOW MATHEW. KING 1659, in the field.
Rev. STREET . WESTMINSTER In the field, K. M.
#706 ALLAN ADLINGTON IN KING In the field, a goat.
Rev. STREET IN WESTMINSTER . [16] 67 HIS HALFE PENNY. A. K. A.
B1588. Obverse. Iam . Abrams . glovyar = A griffin's head erased. 1/4
R. KING . STRET . WESTM R = I . D . A. 1/4

B1591. Obverse. at . ye . ball . in . king = A ball suspended between 57.
R. STREET . WESTMINSTER = R . K . B. 1/4

B1592. Obverse. thomas . baker . at. the . greene = A dragon and a star.
R. IN . KING . STREET . WESTMINSTER = HIS HALFE PENNY. T . F . B. 1/2

B1594. Obverse. THE . TRUMPET . IN . KINGS = A bugle-horn.
R. STREETE . WESTMINSTER = T . I . C. 1/4

B1595. Obverse. IN . KING . STREETE = T . M . C.
R. in . Westminster = A hart at gaze. 1/4

B1596. Obverse. Will . Carter . in . king = An angel.
R. STREET . WESTMINSTER = W . A . C. 1/4

" Thence by appointment to the Angel in King Street, where Chetwind, Mr. Thomas, and Doling were at oysters, and beginning Lent this day with a fish dinner."—Pepy's Diary, March 7, 1659-60.

B1599. Obverse. JOHN . FURNIS . IN . KING . STREETE . IN . WESTMINSTER (in six lines).
R. The Bowyers' Arms, occupying the whole field.

B1600. Obverse. JOHN . GASELY . AT . YE . KINGS . HED = Crowned bust of Charles II.
R. IN . KING . STREET . WESTMINSTER = HIS HALFE PENNY. I . E . G.

B1601. Obverse. will . geese . at . ye . gees = Three geese.
R. KINGS . STREET . WESTMIN = W . E . G.

B1602. Obverse. JOHN . GENEW . AT . YE . OLD . RENISHE = A vase of flowers, I . F . G.
R. WINE . HOVSE . IN . KINGS . STRET . WESTMINS . TER = his . half . peny . 1668 (in seven lines). J

The following advertisement, which appeared in the Kingdom's Intelligencer,
No. 28, July 6-13, 1663, p. 445, gives the position of this tavern :
" There is lately missed at the Lady Balfours house in Channon-Row at Westminster , a certain Cabbinet of black Ebony, Inlaid with white streaks of Ivory ;
about three quarters of a yard in length as much in height, and half a yard broad, opening with two dores, and having another little one within amidst the drawers, wrought in black and white. In this Cabbinet there are or were several Papers and Writings concerning certain Lands and Estates. It is desired, if any can give notice or addresse about the Recovery thereof, to bring word or the Cabbinet it self, to the Rhenish Winehouse about the middle of Kingstreet in Westminster, and the party shall be well rewarded."

B1603. Obverse. Chishall . Harman . whit = A lion rampant.
R. KINGSTREET . WESTMINSTER = HIS HALF PENY. C . M . H.

B1605. Obverse. JOHN . HUDSON . AT . YE . BRVRS (?) . YARD = The Woodmongers' Arms.
R. KINGS . STREET . WESTMINSTER = I . H.

B1606. Obverse. PHILLIP . HUFFA . IN . KING = HIS HALFE PENNY.
R. street . Westminster = Crowned bust of Charles II.

B1607. Obverse. SAMUELL . JEFFERY= KINGS . STREET.
R. IN . WESTMINSTER = S . S . I.

The issuer of this token seems to have been a native of Huntingdonshire :

" Upon the 2nd. Instant, One of Saws ton in Cambridgeshire , about 30 years old ;
Thick lipt , and wide mouth'd , rode away with a little black Nag, 13 hand high, two white feet behind, and one before ; and a Star in his forehead ; with other things belonging to Mr. John Jeffery of Yelling in Huntingtonshire. He that shall give notice to the said Mr. Jeffery, or to Mr. Sam Jeffery next the Swan Tavern in Kingstreet Westminster .... shall be well satisfied for his peyns."— The Intelligencer, No. 81, October 17, 1664, p. 667.

B1608. Obverse. Cros . Keys . king . stre = Two keys crossed.
R. WESTMINSTER . 1657 = G . L.

B1609. Obverse. Thomas . Leadbetter . in = A stag lodged; below, 1668.
R. KING . STREET . WESTMINSTER = HIS HALFE PENNY. T . A . L.

B1610. Obverse. Thomas . Luntley . grocer . his . Halfe . penny . T . M . L. in monogram (in five lines).
R. in . king . street . westminstr = An anchor.

B1612. Obverse. DANIEL . Mackadam . at . the = The Butchers' Arms.
R. IN . KING . STREET . WESTMINSTER = HIS HALF PENY. 1668.

B1613. Obverse. EDMOND . MANGELL = A fleur-de-lis.
R. KING . STR . WESTMIN = E . A . M.

B1615. Obverse. William . N...ton = A bull's head.
R. KING.WESTMINSTER = W . K . N.

B1616. Obverse. IN . KING . STREETE = I . M . S.
R. in . Westminster = Three birds and a wheatsheaf.

B1617. Obverse. Richard . Sangar . in . king = A negro's head.
R. STREET . HIS . HALFE . PENY = R . M . S. 1668.

B1619. Obverse. NATH . TUCKER . at = A unicorn.
R. KINGS STREET WEST = N . E . T. 1/4

B1620. Obverse. THE . SUN . TAVERN . IN . KINGS = The Sun.
R. STREETE . WESTMINSTER = E . F . W. 1/4

"Meeting Dr. Gibbons, carried him to the Sun taverne, in King Street, and there made him, and some friends of his, drink ; among others, Captain Silas Taylor."—Pepys' Diary , August 3, 1668.

B1623. Obverse. JOSEPH . WALKER = 1659.
R. IN . KINGSTREETT = I . A . W. 1/4

B1624. Obverse. Thomas . Walker = A mitre.
R. MITER . IN . KINGS . STREET=T . M . W. 1/4


KNIGHT-RIDER STREET, Doctors' Commons.
Stow mentions Knight-rider street as famous in his day for fish and fish dinners ; and derives the" name of the neighbouring Friday street from the fishmongers dwelling there, who supplied or served at the Friday markets.

#707 THE SWANN IN KNIGHT Swan with collar and chain.
Rev. RIDER STREETE . 1650 In the field, G. H. G.
B1627. Obverse. RICHARD . HOBBS . MEALMAN = R . I . H.
R. IN . KNIGHTRIDER . STREETE = HIS HALF PENY. 1671.

B1628. Obverse. thomas . hoveden . in = The Drapers' Arms.
R. KNITE . RIDER . STREETE = T . A . H. 1/4


###
As ever I am appreciative of the archive.org site and google books for showing old and non-copyright scripts which can be used for research (copied).


And Last updated on: Wednesday, 30-Mar-2022 17:13:09 BST